Tonnage Air Separation Plant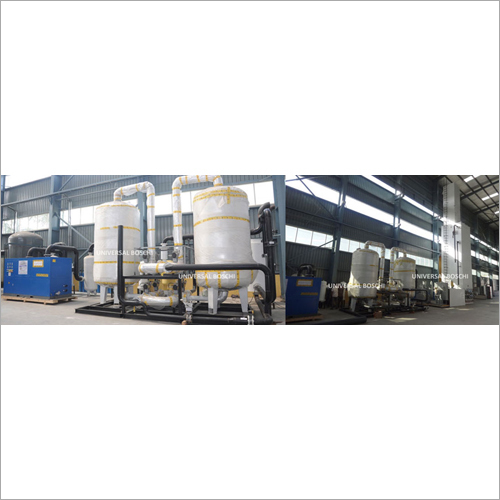 Tonnage Air Separation Plant
Product Description
Tonnage Liquid - Gas Oxygen & Nitrogen Air Separation Plant
Whether yours is a steel plant or operating a hospital, oil & gas, mining, process or chemical industry, you would definitely require this technologically advancedTonnage Liquid - Gas Oxygen & Nitrogen Air Separation Plant. This large size plant generates oxygen and nitrogen in liquid and gas forms.
Product Outputs
A. 99.7% pure Oxygen gas at 150-160 Bar (2200PSIG) or upto 200/300 bar as needed to fill the oxygen cylinder.

B. 99.99 % pure Nitrogen (3ppm optional) or cylinder filling.
NOTE: When the high purity nitrogen is produced, there is no oxygen production loss.
Special Features:
Following are the features of the Oxygen & Nitrogen plant:
The plant produces minimum 99.7% pure oxygen and up to 1-3 PPM pure nitrogen.

It incorporates an oil free rotary screw /centrifugal oil compressor that operates between 5-7 bar.

Aluminum brazed exchangers and packed columns improves the efficiency of the plant.

The turbo expanders (GAS Bearing) incorporated ensure smooth operation.

The plant with a capacity of more than 500m3/hr comes with an automatic PLC control.

Our company engineers and quality control the plant.

Skilled engineers can help customers with supervision, installation, commission and manpower training.

This energy efficient plant performs at level best without the need for any maintenance.

Customers can use the generated oxygen for hospital and industrial applications.
Specification
MODEL

CAPACITY IN M3/HR

CAPACITY IN TONS PER DAY

CAPACITY IN LITER /HOUR

PURITY

UBTL-400

400 M3/HR

12.8 TPD

O2- 470 L/Hr
N2- 580 L/Hr

O2-99.7%
N2-99.99%

UBTL-500

500 M3/HR

16 TPD

O2- 590 L/Hr
N2- 730 L/Hr

O2-99.7%
N2-99.99%

UBTL-1000

1000 M3/HR

32 TPD

O2- 1180 L/Hr
N2- 1440 L/Hr

O2-99.7%
N2-99.99%

UBTL-1500-45

1500 M3/HR

48 TPD

O2- 1500 M3/Hr
N2- 1500 M3/Hr
Argon- 45 M3/Hr

O2-99.7%
N2-99.99%
Ar-99.9999%

UBTL-2000-60

2000 M3/HR

64 TPD

O2- 2000 M3/Hr
N2- 2000 M3/Hr
Argon- 60 M3/Hr

O2-99.7%
N2-99.99%
Ar-99.9999%

UBTL-3000-90

3000 M3/HR

96 TPD

O2- 3000 M3/Hr
N2- 3000 M3/Hr
Argon-90 M3/Hr

O2-99.7%
N2-99.99%
Ar-99.9999%