PSA Oxygen Generator Plant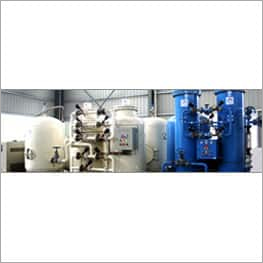 PSA Oxygen Generator Plant
Product Description
The latest PSA (Pressure Swing Adsorption) technology is adopted in the manufacturing of PSA oxygen plant. We manufacture this plant at par with international standards and provide it at competitive price. The plant generates oxygen that meets the standards of Indian Pharmacopeia, US Pharmacopeia, and UK Pharmacopeia, as well as requirements of medical and industrial applications. Our PSA oxygen plant are operational in a number of companies for generating oxygen on-site.
Many hospitals use this plant to produce oxygen anytime, rather depending on oxygen cylinders from the market. Besides medical institutions, industries can get uninterrupted supply of oxygen using this plant.
Salient features of PSA oxygen generator plant:
Completely automated- systems are designed to work unattended
Prefabricated and supplied from factory
Compact PSA plant takes little space, assemble on skids
Plant takes only 5 minutes for generating oxygen with desired purity
Can be relied for continuous and steady supply of oxygen
Durable molecular sieves last around 10 years
How PSA oxygen generator plant works
Highly advanced Pressure Swing Adsorption technology is employed in the fabrication of PSA oxygen generator plant. There is 20-21% oxygen in atmospheric air, and Zeolite molecular sieves in PSA oxygen generator separates the oxygen from the air. Highly pure oxygen is delivered, whereas the nitrogen absorbed by the molecular sieves is directed through exhaust pipe back into the air.
Pressure swing adsorption (PSA) process comprises two vessels filled with activated alumina and molecular sieves. Compressed air passes through one vessel at 30 degrees Celsius and generates oxygen as a product gas. Nitrogen is directed through exhaust back into the atmosphere. Automatic valves switch the process to the other bed, once the molecular sieve bed is saturated. This is performed while allowing the saturated bed to pass through regeneration by depressurization and purging to atmospheric pressure. Two vessels alternately work in the production and regeneration of oxygen, making available oxygen to the process.
Applications of PSA Plants:
A number of industries use our PSA oxygen generator plant, such as:
Fish farming
Glass industry
Chemical industries for oxidation reactions and incinerators
Water and Waste water treatment
Metal gas welding, brazing and cutting
Paper and Pulp industries for delignification and oxy bleaching
Glass industries for furnace enrichment
Metallurgical industries for oxygen enrichment of furnaces
Trade Information
Wooden Packaging

Asia, Australia, Central America, North America, South America, Eastern Europe, Western Europe, Middle East, Africa