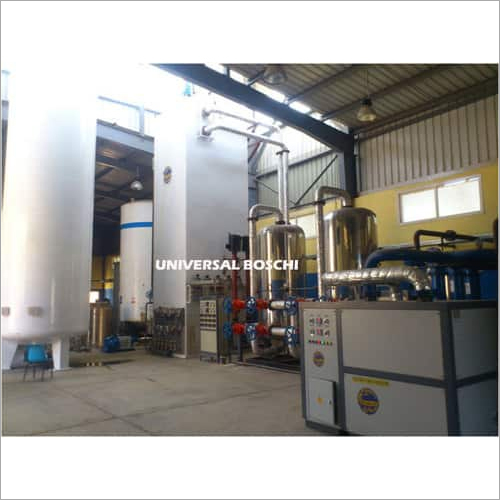 Liquid Nitrogen Plant
Product Description
We, Universal Industrial Plants Mfg. Pvt. Ltd., manufacture and supply liquid nitrogen plant. The design of this plant is made in technical collaboration with ING. L. & A. Boschi, Italy, a company whose specialization lies in the development of small, medium and large capacity liquid nitrogen plant. This plant generates high purity liquid nitrogen, while maintaining the steady flow, all because of the high efficiency heat exchangers, cryogenic construction material and cross flow trays. The superior designing and cutting-edge cryogenic technology based liquid nitrogen plant can achieve purity, from 99.9% up to 99.999%, or PPM according to the requirement and application of the end user. This plant is offered in several capacities, from 10 Liters/Hour to 3000 Liters/Hour.

Quick Facts about Universal BOSCHI Liquid Nitrogen Plants

This plant can produce in capacity, ranging from 10 to 3000 liters/hour
It generates highly pure LIN, from 99% to 99.9999% upto PPM levels
This plant is operational worldwide, specifically in over 40 countries.
It uses advanced cryogenic technology to produce liquid nitrogen directly from the air.
This plant can be continuously and safely operated 24 hours a day and seven days a week.

APPLICATIONS OF LIQUID NITROGEN

Veterinary industry for the cryo preservation of blood cells like egg and sperm
Glass industry
Food preparation and making ice cream
Oil & Gas
Beverage & food industry
Freezing Seafood & other items
Tunnel freezing
Many others

IMPORTANT FEATURES OF LIQUID NITROGEN PLANT

Use of A Grade leak-proof SS for manufacturing air separation column (Cold Box)
Provided with a Skid Mounted version
Starts quickly and easier to maintain
Performs hassle-free for a longer time span
Easily available spare parts
Less power consumption

PRODUCT DESCRIPTION:

Atmospheric air compression : Air compressors (screw/centrifugal type) compress air at a very low pressure of 5-7 bar (kg/cm2).

Pre cooling system: The second process stage makes use of low pressure refrigerant for pre cooling the air compressor generated warm processed air to temperatures around 5-10 degrees Celsius, before it reaches the purifier.

Air purification by purifier : Purifier comprising alternatively functioning twin molecular sieve driers, purifies the low temperature air. The process air is separated into carbon dioxide and moisture, before it enters the air separation unit.

Cooling of air by expander : Liquefaction and cryogenic refrigeration is achieved by cooling air below the sub zero temperatures. Air is cooled below -165 to -170 temperatures by a highly efficient expander.

Separation of liquid air into oxygen and nitrogen by air separation column : The dust, moisture, carbon dioxide and hydrocarbons free air enters into fin type heat exchanger, where expander through air expansion process cools down the air below sub zero temperatures. In the air separation column, the air becomes liquefied and separated into nitrogen and oxygen by rectification process. Nitrogen generated can be up to 99.9% to 99.9999% pure, based on the requirement of the end user.

Liquid nitrogen is filled in liquid storage tank : Liquid nitrogen is filled for storage in a vacuum insulated cryogenic storage tank, connected to the air separation column outlet through insulates/vacuum pipe, creating an independent unit where attention of operator is not required.
Technical Specifications

MODEL

PRODUCTION IN M3/HR

PRODUCTION LITERS/HOUR

PURITY

UBTLN-50

50

73

99.99 To 99.99999%

UBTLN-100

100

145

99.99 To 99.99999%

UBTLN-200

200

218

99.99 To 99.99999%

UBTLN-300

300

435

99.99 To 99.99999%

UBTLN-400

400

578

99.99 To 99.99999%

UBTLN-500

500

724

99.99 To 99.99999%

UBTLN-1000

1000

1440

99.99 To 99.99999%

UBTLN-1500

1500

2171

99.99 To 99.99999%

UBTLN-2000

2000

2894

99.99 To 99.99999%

UBTLN-3000

3000

4341

99.99 To 99.99999%

UBTLN-4000

4000

5788

99.99 To 99.99999%

UBTLN-5000

5000

7235

99.99 To 99.99999%
Technical Specifications

Production

UBTLN-50

UBTLN-100

UBTLN-200

UBTLN-250

UBTLN-300

UBTLN-400

UBTLN-500

Mode 1 : Liquid Oxygen (Nm3/hr)

50

100

200

250

300

400

500

Liquid oxygen (L/hr)

59

118

176

235

352

469

586

Mode 2 : Liquid Nitrogen (Nm3/hr)

50

100

200

250

300

400

500

Liquid Nitrogen (L/hr)

73

145

218

290

435

578

724

Purity

Liquid Oxygen (%)

99.7

99.7

99.7

99.7

99.7

99.7

99.7

Liquid Nitrogen (%)

99.99

99.99

99.99

99.99

99.99

99.99

99.99
LIQUID NITROGEN TANK: - From 500 L to 100000 L (Vertical & Horizontal) CAPACITY

Model

BST-500

BST-1000

BST-1200

BST-2000

BST-3000

BST-5000

BST-6500

BST-8500

BST-10000

BST-13200

BST-16000

BST-20000

BST-50000

BST-100000

Capacity (Litre)

500

1000

1200

2000

3000

5000

6500

8500

10000

13200

16000

20000

50000

100000

Design Pressure

17 Bar

Design Temperature

(-) 196oC.

Strengthening Test Pressure

25.4 Kg/Cm2g

Service

LOX/ LIN/ LAR
Trade Information
As per Requirement Per Month

60 Days