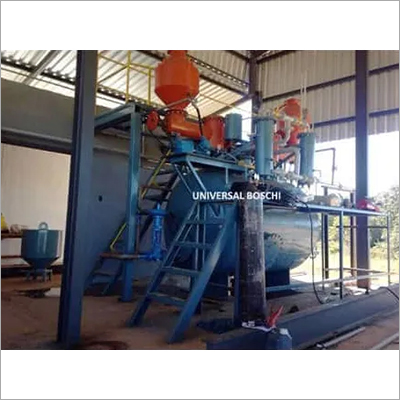 Acetylene Gas Plants
Product Code : UA-25m3/hr.
6000000 INR
Price And Quantity
Minimum Order Quantity

:

1
Unit of Measure

:

Plant/Plants
Product Description
Acetylene Gas Plants

With our rich industry experience and knowledge, we are engaged in offering high quality Acetylene Gas Plants. These automated plants are basically utilized for the processing of acetylene gas. The offered plants use advanced technology and are highly efficient to generate pristine quality gas. For the manufacturing of these plants, our well-versed professionals utilizes components in sync with the set market standards. Offered plants are highly used in mechanical, oil processing, pharmaceutical many more industries. We provide these Acetylene Gas Plants in different technical specifications as per the application needs of clients.These plants are designed for the explosion proof production of acetylene gas at the desired pressure with the consumption of lower electricity. Designed as per Boschi - Italy design, these plants are ideal for performing fully automatic reactions between calcium carbide and water for the formation of calcium hydroxide that is further processed for the extraction of acetylene gas. Also, these plants are equipped with audio and visual signals to warn operator in case of interruption of supply of power, water or air. Besides, the offered plants are equipped with flash back arrestors, reverse flow check valves and other equipments to assure the utmost safety of equipments and personnel.
Features:
Available in capacity ranging from 15cum/hour to 200cum/hr
Robust design and hassle-free operation of universal Boschi brand acetylene gas plants
Do not require any bulky holding gas storage tank
Automated panel controls for hassle-free feeding of water
Full sealed and efficient maintaining devices for pressures, temperatures and slurry drains as per international standard
Safe and efficient absorption of gas in pre-installed cylinders
Zero gas and pressure loss for assuring higher yield
Simple and safe to operate for lower maintenance cost
Low power consumption for energy efficiency
Equipped with twin hoppers generator and automated screw feeding system
Equipment Schedule For Acetylene Gas Producing Plants



S.No.

Description

1

CARBIDE HOPPER

2

ACETYLENE GENERATOR

3

L.P. DRYER

4

PURIFIER

5

AMMONIA SCRUBBER

6

ACETYLENE COMPRESSOR

7

H.P. DRYER

8

CYLINDER FILLING MANIFOLD

9

ACETONE PUMP

10

FLAME PROOF MOTORS



TECHNICAL SPECIFICATIONS OF ACETYLENE PLANT
Description

UA-15

UA-25

UA-50

UA-100

UA-200

Capacity Cubic Meter per hour

16

27.5

55

11

220

Raw Material Required

Raw material

Calcium carbide (kg/m3of gas) Main raw material -cac2- carbide quality 5mm to 25 mm specify

3.3

3.3

3.3

3.3

3.3

Power

Power (average requirement)

10 kw

12 kw

15 kw

28 kw

40 kw

Water

Cooling water make-up (liters/N.cubic meter of gas)

10

10

10

10

10

CHEMICAL & CONSUMABLES IN SMALLER QUANTITIES FOR PURIFYING PROCESS

Calcium chloride (gms/N.cubic meter of gas) (one charge supplied inside LP drier)

50

50

50

50

50

Purifying mass (gas plus acid absorption mix per cum of gas)

15gm s/ N.Cu m+ 4gms

15gm s/ N.Cu m+ 4gms

15gm s/ N.Cu m+ 4gms

15gm s/ N.Cu m+ 4gms

15gm s/ N.Cu m+ 4gms

CYLINDER FILLING

Acetone in cylinders pumped through acetone pump

As required

As required

As required

As required

As required

Space Required (approx.)

As required

As required

As required

As required

As required

Process Area

50 Sq.M.

70 Sq.M.

110 Sq.M.

150 Sq.M.

200 Sq.M.

Carbide Area

60 Sq.M.

75 Sq.M.

112 Sq.M.

175 Sq.M.

250 Sq.M.

Cylinder Filling Area

30 Sq.M.

40 Sq.M.

6 Sq.M.

100 Sq.M.

150 Sq.M.

Cylinder storage area (depending upon cylinder inventory)

80 Sq.M.

100 Sq.M.

160 Sq.M.

200 Sq.M.

400 Sq.M.

Lime slurry disposal area

80 Sq.M.

100 Sq.M.

160 Sq.M.

200 Sq.M.

400 Sq.M.

Free space around the plant (on all sides)

15 M

16 M

18.5 M

20 M

20 M

Acetone Godown

10 Sq.M.

12 Sq.M.

20 Sq.M.

20 Sq.M.

40 Sq.M.